Biolage by Matrix
The exclusive blend of unique botanicals and the latest technologies creates gentle, high-performing formulas to enhance the beauty of every hair type. Biolage products adhere to high standards of safety and efficacy.
Brazilian Blowouts
The original Brazilian Blowout technology smoothing treatments are the most effective in the world for treating dry, frizzy hair. Brazlian Blowout treatments are the only treatments that actually improve the health of your hair!
deFabulous
Some of the more popular de Fabulous products and treatments are listed below, or see the entire de Fabulous catalog.
Reviver Hair Repair Treatment
Color Endure
Scalp Aid
Ginger Energizing Shampoo and Conditioner
KerAçaí Restorative Treatment by De Fabulous
AÇAÍ Oil Treatment
Kevin Murphy
Kevin Murphy hair products are sulphate and paraben free. Kevin Murphy is a fashion focused range of salon only, professional hair care products created by Kevin. The Kevin Murphy hair product line includes many styling products including:
Kevin Murphy Plumping Line – Kevin Murphy's newest hair thickening line, available in spring of 2014! Ramon Bacaui Salon carries Plumping.Wash, Plumping.Rinse, and Body.Mass.
Kevin Murphy Styling Products – Easy Rider, Body Guard, Damage Manager, Sticky Business, Gritty Business, Night Rider, Powder Puff, Anti Gravity, Motion Lotion, Hair Resort, Straight Defence, Color Bug, Session Spray, Body Builder, Fresh Hair, Texture Master, Hair Resort Spray, and Anti Gravity Spray.
Kevin Murphy Shampoo – Angel Wash, Balancing Wash, Luxury Wash, Maxi Wash, Born Again Wash, Protection Wash, Hydrate-Me Wash.
Kevin Murphy Conditioner – Angel Rinse, Luxury Rinse, Leave-In Luxury, Leave-In Protection, and Hydrate-Me Rinse.
Ramon Bacaui Salon offers the amazing line of MoroccanOil shampoos, conditioners, treatments, and more. Come by the salon and let our staff recommend the MoroccanOil treatment for your hair.
Neuma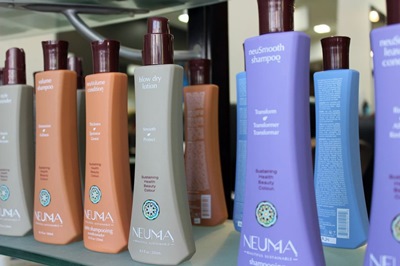 NEUMA contains ingredients, which above all, do no harm. ZERO synthetic fragrance, sulfates, parabens, 1,4-dioxane, phthalates, glutens, neurotoxins, aluminum compounds, glycols, formaldehyde donors, ureas, carcinogens and environmental pollutants.
Find Neuma products at Ramon Bacaui salon in Old Town Scottsdale!