Meet the extraordinarily talented, award-winning, media-garnering team of hairdressers and stylists of Ramon Bacaui Salon! Click on each individual stylist for a detailed biography, recent work, and links to his/her social media profiles.
Ramon Bacaui Stylists and Staff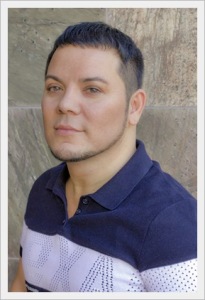 Award winning Master stylist, Ramon Bacahui, is highly sought after for his dynamic talent and skills. With extensive international work, Ramon specializes in hair extensions, coloring, complete makeovers, and bilingual education. Advanced razor cutting techniques coupled with head turning color; his fashion designs are sure to impress and enhance every client's total image.
Perla has been doing hair for 8 years. Perla is known as a hair color, "mixologist". She also masters hair extensions, and high lights. Perla has always been creative, driven and passionate – qualities that are particularly useful in hairstyling and color. Mostly specializing in a variety of color trends, texture cutting, razor techniques. She wants to make every experience in her chair memorable.
Fernanda is a Ramon Bacaui Salon master stylist. She specializes in color, including balayage, color melt, and foiling techniques; hair extensions; hair treatments; and long hair. Fernanda has 8 years of SoCap hair extension training and application. Fernanda loves to do bridal parties (makeup and hair), all types of events, and loves making people feel and look their best. Fernanda keeps up to date on her education, always learning new techniques. Follow Fernanda on Instagram @fhairnanda!
Saghar has been behind the chair over 9 years in southern California. Doing hair is her passion. In addition to hair, she does hair threading removal services. Saghar is friendly, welcoming, and goes the extra mile to ensure that her clients feel special and important. Saghar keeps up to date on her education and is always learning new techniques and trends.
Holly has been providing elite hair care services for 8 years. Holly studied at a Paul Mitchell school where she received her license. Holly work has been published in the Arizona, Echo magazine for a designer Bill Berg. Holly's work could be described as, "savoir faire" which includes, cut, color, and highlights.
Robert has been a stylist for more than 7 years. His specialties include, but are not limited to: expert hair color, haircuts, and style. Additionally, Robert has been formally trained in SoCap Hair Extensions. His artistic abilities are limitless on all of his services and his styling techniques range from polished classical to cutting-edge, Avante Garde creations. Robert's work has recently been displayed at Scottsdale Fashion Week as well as Hair Wars, at Scottsdale's W Hotel.
Kent's actual name is Rainer Luedecue, but he is commonly known as "Kent". He was raised in Germany in a family of Hairdressers (mother, father and sister). This year, Kent celebrated 50 years as a stylist, with 45 of them in the United States! Kent owned a successful salon in Scottsdale (Kent's Place) for 28 years, and currently operates as an independent stylist at Ramon Bacaui Hair & Med Spa.
Allis creates dimensional balayage, natural highlights, color melts, and dramatic expressions of color. Most importantly, she empowers confidence. At a young age of 11, Allis wanted to help her brother. Every month her older brother would come home from the barber shop angry, with low self-esteem, and hating his haircut. Allis wanted him to love his hair. She learned to listen, cut it, and build his confidence. Check out the most recent creations at @cosmoallis through Instagram. Allis has been doing hair and makeup professionally for 3 years. "I want you to love your healthy, beautiful hair."